Vauxhall Corsa-e and Mokka-e get £3k price cut after grant changes
[ad_1]

Vauxhall has responded to last week's surprise reduction in the UK's Plug-in Car Grant (PiCG) incentive scheme by lowering the price of its electric cars. 
Effective from today, the battery-powered Corsa-e and Mokka-e will have their list prices reduced by £3,000. It means the former now starts from £25,805 on-the-road including the grant, with the latter down to £29,365 including the grant.
The revised pricing is introduced in lieu of any previous customer offers. Paul Willcox, Vauxhall's Managing Director, said: "Vauxhall wants to move the UK to electric motoring as quickly as possible, which is why we have committed to being an electric-only brand from 2028.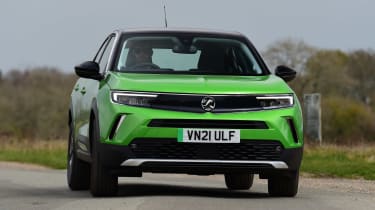 "In light of a further evolution to the Government Plug-in Car Grant, we have taken the decision to change our pricing policy on our all-electric Corsa-e and Mokka-e models."
Last Wednesday, without any warning, the Government again introduced another round of cuts to its EV or hybrid car and van incentive scheme. Buyers can now claim a maximum of £1,500 off the price of an eligible car (£1,000 less than before) on models costing no more than £32,000. That's a reduction of £3,000 on the previous pricing cap. 
Vauxhall's decision to reduce the price of its two electric cars means that even the expensive trim levels, namely the Corsa-e Elite and Mokka-e Ultimate, all fall under the £32,000 cap on the grant, so are eligible for the £1,500 discount. 
Earlier last week Vauxhall also announced some technical upgrades to both models, which increases their range on a single charge by up to six per cent. 
Click here for the latest from our Vauxhall Mokka-e long-term test…
[ad_2]

Source link